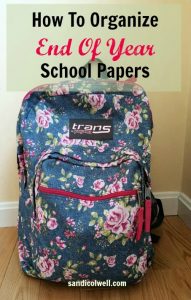 It's the time of year every parent both loves and dreads. At least for me, it's usually a bittersweet moment. I'm happy to say goodbye to the morning lunch packing routine and welcome in the lazy days of summer with my kids. Somehow though, the last day of school comes up too quickly and once the kids are off the bus, the kitchen counter becomes a dumping ground. Sound familiar?
Over the past 16 years, I've tried many different methods of taming the mountains of paperwork that come home in each backpack. While I love seeing the projects, report cards, and test papers, I often feel overwhelmed at the sheer amount of papers that take up residence on the counters and table tops.
I've now found the easiest way to organize the school papers is to tackle the piles as soon as possible. Here are some easy ideas to help you ease the end of year paperwork pain!
For each child's paperwork, make three separate piles.
One pile for items to discard/recycle. These items might include information on camps your child will not be attending, any junk mail sent home from outside organizations, any scrap papers.

The second pile is for any action items that you need to respond to such as birthday party invitations, summer reading lists, camp information, lists or memos regarding the next school year (open house dates, first day of school dates, etc.).

The third pile is for items that you want to keep. These might include things like report cards, health information, projects, artwork, homework, tests, quizzes, school photos, and certificates/awards
Now let's break these three piles down even further.
The discard pile can be recycled right away. There's no need to keep junk mail from the school since we already get enough in our regular mailboxes and email accounts!
For the action item pile, you'll need to look at each paper and decide whether you can go ahead and rsvp now or hang on a bulletin board to do at a later date. I like to put a note in the calendar on my phone to rsvp to an event so I don't forget. Other items might need to be scheduled on your calendar and then you might be able to discard the paperwork. If I want to keep the paperwork, I'll either take a picture of it on my phone or I'll file it in my child's 'mailbox' which I keep on a table in the dining room. Each member of our family has a mailbox for papers we aren't ready to deal with yet or things we need to keep handy. I found these at the Target Dollar Spot.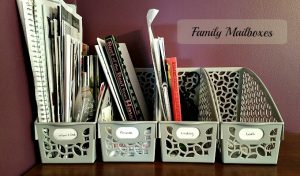 The third pile or the keep pile is the one that I find most difficult to organize but if you have a plan ready to implement, it won't be so hard. Report cards and health forms can be filed in manila folders and placed in filing cabinets or drawers for safe keeping.
Homework, tests, and quizzes can either all be filed together in a folder or a bin according to child and broken down by school year. I save very few homework papers keeping only a sample to compare handwriting later down the road. I also save only a sampling of tests and quizzes so I have a reminder of what my child learned that year. I do save most projects and reports because I know how much work went into them. I use a large plastic bin to store those items.
School photos can be stored in scrapbook albums or other photo albums that are acid free. If you need help with scrapbooking, please visit my Creative Memories page.
Artwork is bit hard to recycle and most kids want every piece saved. The problem is that soon you will run out of display space. We only have so many cabinets and door to hang them on. Art projects can be saved in art portfolios or bins and crates. One solution I love is to take a picture of the artwork and make a scrapbook or gallery wall with the photos. Another way is to make a photo book through a service such as Shutterfly.
Once you tackle the end of school year paperwork pile, you'll be on your way to a clutter free summer of fun knowing that you saved the important items from the school year. When school starts up again in the fall, you can use the same organization strategies to tame the first week of school piles!
Please share any ideas or tips you have for organizing school papers!
This post contains affiliate links.