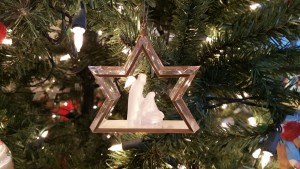 Does knowing next week is the last FULL week before Christmas strike a chord of fear in you? Yup, me too. Did you begin the days after Thanksgiving promising yourself you wouldn't get crazy and in a full scale panic by waiting until the last minute to get stuff done? Yup, me too. How are you all doing on that? Yup, me too.
While I'm doing well in some areas of holiday preparation, I'm lacking in others. I love having my decorations all around the house but it sure is hard to feel like the house is clean and not cluttered at the same time. I have almost all of my shopping done but not the stocking gifts or wrapping. I have a menu written for several events I'm hosting but I have yet to shop for any of it or prep anything so far.
Did I envision myself floating through these December days getting every gift wrapped perfectly, cleaning my house, volunteering my time, working my business, spreading holiday cheer, and generally having a big smile on my face the whole time? Yup, the day after Thanksgiving I sure did. Shall we say the bubble has burst? That would be the bubble of perfectionism.
Have you ever seen the movie, Christmas Vacation? There's one scene in the movie where Clark and his wife, Ellen, are discussing the holidays and how both sides of the family have been invited and they are ALL coming. Clark is elated as his dream is to have everyone at their home for a big, fun, old-fashioned Christmas. Ellen doesn't share his enthusiasm and reminds him that he always sets very high, unrealistic expectations that no family event can ever live up to. Clark insists everything will be fine and then of course, the holidays arrive and the fun, family Christmas unravels very quickly in a downward spiral. Clark's perfect Christmas was not to be because the attendees were human beings and as such, we are not perfect.
Today as I stopped at the pharmacy drive-thru window, I saw this sign, 'Let's Quit Together'.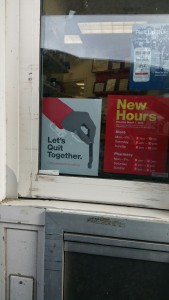 The sign is meant to be part of a quit smoking campaign but I love the general sentiment. 'Let's quit together' not 'Hey good luck with that, let me know how it works out'. What if we quit the idea of a perfect Christmas, together. How about if I promise not to worry if your baseboards are clean and you promise not to care if half the pre-lit bulbs on my tree are not working…because really, how does anyone fix those pre-lit bulbs when they are wound around the branches tighter than my pants after Thanksgiving dinner?
Let's quit the idea that this will be the most perfect Christmas ever.  Because friends, it won't be.  We are human just like Clark's family and there will be mishaps, mistakes, and words misspoken and that is OK. I repeat, that is OK. Instead of chasing down perfect, let's focus on our family, our friends, food that will be plenty, and the beautiful, timeless story of a baby in a manger. That's all the perfection required.
Sandi
But he said to me, "My grace is sufficient for you, for my power is made perfect in weakness." Therefore I will boast all the more gladly about my weaknesses, so that Christ's power may rest on me. (2 Cor. 12:9)