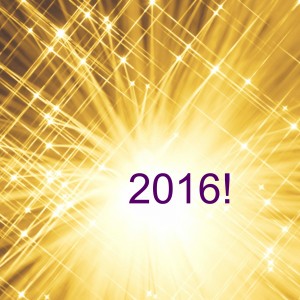 Now that the presents have all been unwrapped, the company has gone home, and the leftovers are starting to taste…well, leftover, are you ready to begin a new year? 2016 is just about knocking on the door. Are you ready to greet it or pretend you aren't home?
I love the feeling of a new year whether it's January or September. Both months fill me with a feeling of renewal and hope. September leaves me giddy with anticipation of reclaiming my work day once the kids are off to school. January is usually a month of dieting and trying to spend less money. Each year I pick a word to live by for the next 12 months. I started doing this many years ago and I've had some success and some failure with it as well.
For instance one year I chose "flourish" as my word. Oh yes, I planned on adding a little flourish to everything I did. Gifts would be wrapped with glittering ribbons and paper, school snacks would look like Martha Stewart herself had packed them, decorations for every holiday would be picture window worthy…that was a major fail. All of it. Not only did none of that happen but even worse, I was depressed over it! I failed at my own word choice.
Another word choice was "engage". That started out pretty well. I remember talking it up with an elderly man in the grocery store and learning a great deal about him in just a few minutes. It was fun but it fizzled over time.
Easier word choices have been ones like "joy". That's a good one and a great reminder to look for and find joy in all situations.
Last year's word was "wisdom". This wasn't meant in the sense that I was wise myself per se but more to pay attention and seek the wisdom of others. Also to realize that I do have some wisdom stored up inside. Afterall, you don't live 44 years and not have one iota of wisdom, right? It was a call to trust myself.
So I'm sitting here on the cusp of another new year and pondering my word choice. I want the word to be true to me. I don't want another word that is code for a goal I'll never achieve. The word should reflect how I feel now going into the new year. A word to live by that won't be unattainable or leave me deflated in the end.
This year, I'm choosing "faith". It's defined as a strong belief or trust in someone or something. I'm feeling that! I am believing and trusting in that which I can not see because each time I do, it is GOOD. Every time I leave my troubles in His hands and rest in His breath, life is peaceful. It's not visible, definable, or textural. I can't explain it. I just know I feel it. I want you to feel it too. It's being true to yourself and knowing that life is not meant to be navigated alone. We don't have to do it alone, sweet friends. Give your troubles over to the only One who can help. Let them go, one by one, like balloons drifting through the sky higher and higher until they are no more. Feel faith.
Your word choice might not be the same as mine this year but make it true to you. What are you feeling right now that is positive and can be carried into 2016? Leave me comment here on this post and share your word. I'd love to hear your pick for the new year.
Sandi
Be on your guard; stand firm in the faith; be courageous; be strong. (1 Corinthians 16:13)