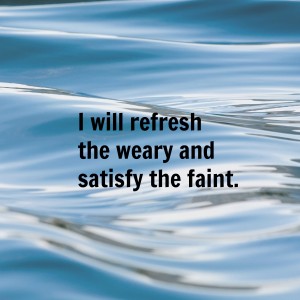 Weary is a word defined in the following ways:
adjective

,

wearier,

weariest.
1.
physically
or
mentally
exhausted
by
hard
work,
exertion,
strain,
etc.;
fatigued;
tired:
weary
eyes;
a
weary
brain.
2.
characterized
by
or
causing
fatigue:
3.
impatient
or
dissatisfied
with
something
(often
followed
by
of
):
4.
characterized
by
or
causing
impatience
or
dissatisfaction;
tedious;
irksome:
My eyes seem to focus on the last three words of each definition: a weary brain, a weary journey, weary of excuses, a weary wait.  I almost feel as though I should put check-marks next to each one! Dictionary.com seems to have my number this January.  My brain feels fuzzy, the road has felt long, I'm tired of complaints and excuses, and the wait for peace in my heart seems so far away.
Christmas came and went faster than I could say sweet baby Jesus.  New Year's came next with a host of resolutions and word choices and a real sense of getting intentional with myself. I knew January would be busy with articles to write, projects to quilt, students to teach, a family to care for, and a house to clean.  Now the calendar is staring at me with just a mere 48 plus hours left to this month. I worked January hard and I know you did too. Whether you spent most of the days working in an office, working from home, or deep in the trenches of dirty diapers and sinks full of dishes, you worked it, friends.  We all did.
Here's the thing though, the page of the calendar is going to turn soon. I'm thinking I need a little help to make it through and do it all over again but this time without the weariness.  I still long to commit to my word choice (Faith) and keep my resolutions. I'm just a wee bit soul weary and in need of being refreshed.  Couldn't we all use a system refresh about now? I think we can reset ourselves for February with four words, "Lord, go before me."
I was listening to a podcast in the car the other day and the two ladies speaking on the podcast were nervous about an upcoming video they would be shooting together the next month. It was a video for some show and they worried over what they would wear, how much makeup would be too much or too little, and if they would make total fools of themselves. And suddenly one of the ladies said something like this, "I'm not going to worry about this anymore, the Lord will go before us." Huh. Really? That's it, worry dismissed. Then just like that, they were on to the next topic of what kind of queso dip to make for the upcoming football game.
So I gave it a whirl last week. I had to do something I was afraid of doing and I spoke the words, "Lord go before me." And he did. And he will. We just need to ask.
And because God has a perfect way of giving you exactly what you need when you need it, didn't I find this gem in my daily devotion…
The Lord himself goes before you and will be with you; he will never leave you nor forsake you. Do not be afraid; do not be discouraged.
(Deuteronomy 31:8 NIV)
Join me in refreshing yourself for February by asking Him to go before you. Not only will He go before you, he will stay with you. Always.  Bring on February, we got this!