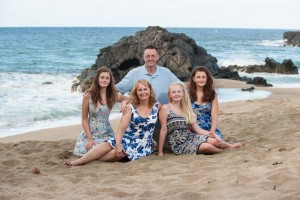 Hi there,
My name is Sandi Colwell and I'm so happy you are here visiting my blog! This blog is meant to be a warm and friendly place where women can encourage, inspire, and connect with each other.
I'm a wife to Greg and a mom to three daughters – Amanda, Lindsey and Leah. We had this photo taken last year on a family vacation to Kauai, Hawaii. It's one of my favorite photos of all us together. Family is definitely my highest priority and as a stay at home mom and part-time writer/crafter, I'm able to combine all the things I love right here in my home.
I'm an avid scrapbooker and quilter. I have a quilting pattern design business and I also teach quilting. Crafting and writing are my passions and it's through these channels that I find myself and grow. I've been fortunate to be included in many national publications and to have authored a book, Little Quilts For Big Occasions.
I love to write inspirational essays which is how this blog actually was born. I enjoy writing posts that help and encourage others and I hope to connect with you.
Thank you for visiting the blog. If there's a topic you'd like to see more information about, please let me know through the comments below.
Sandi
Visit Quilt Cabana Patterns for more on my life as a quilter.